Ring cores made of thermally stable supermalloy and wound with 1000 turns are excellent transformers. Originally developed for ground fault detection current, they are now used in many current-sensing applications. In a GFCI circuit breaker or electrical outlet, these cores constantly monitor electrical current and protect against injury or death caused by contact with damaged or defective electrical equipment. In the ALCI plug, the cores are used to protect people from electrical shock by hairdryers or other appliances. (They can have many uses in other applications).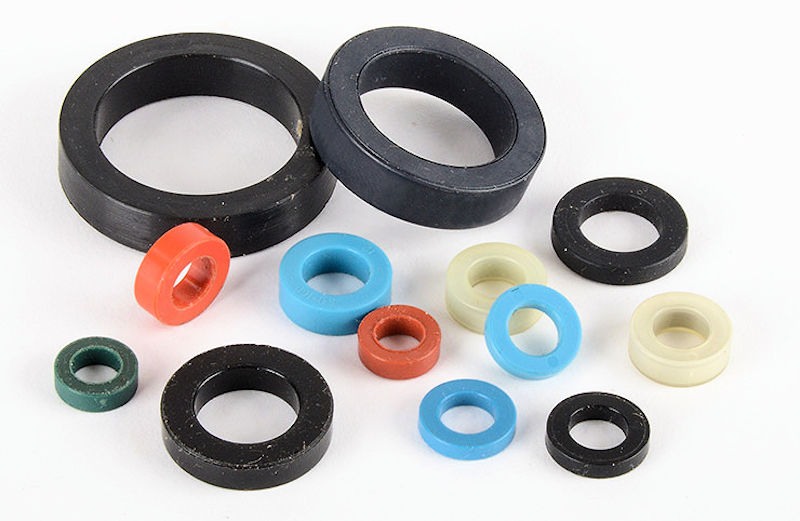 L&H components ltd supplies standard size sensor cores of supermalloy for sensing fault current as well as cores made of ferrite for ground to neutral detection. Sensing and neutral detection cores are available in a wide variety of sizes and type to fill any GFCI, Arc Fault or current sensing requirement.
The unique annealing process produces the highest quality magnetic components. Fully automated casing and 100% testing provides customers with the most price competitive products and the best production yields in the industry.
Ring Cores For GFCI and ALCI:
Cores for GFCI – 5000 Series (80 % Nickel Alloy – 0.33 mm thick)
Cores for ALCI – 5100 Series (80 % Nickel Alloy – 0.33 mm thick)
| Ring Core | Colour | ID Ring (mm) | OD Ring (mm) | Ht Ring Stack (mm) | ID Case (mm) | OD Case (mm) | Ht Case (mm) | l (cm) | A (cm²) | Approx. No. of Rings |
| --- | --- | --- | --- | --- | --- | --- | --- | --- | --- | --- |
| 5025 | Green | 7.75 | 10.29 | 3.02 | 6.73 | 11.56 | 4.95 | 2.83 | 0.0383 | 9 |
| 5029 | Blue | 8.84 | 12.19 | 1.68 | 7.75 | 13.46 | 2.74 | 3.3 | 0.0281 | 5 |
| 5137 | Yellow | 8.84 | 12.19 | 1.68 | 7.75 | 13.46 | 2.74 | 3.3 | 0.0281 | 5 |
| 5042 | Black | 9.53 | 12.7 | 1.68 | 8.13 | 14.22 | 2.87 | 3.49 | 0.0266 | 5 |
| 5022 | Clear | 9.53 | 12.7 | 3.02 | 8.13 | 14.22 | 4.95 | 3.49 | 0.0479 | 9 |
| 5040 | Black | 11.07 | 14.27 | 2.01 | 9.53 | 15.88 | 3.81 | 3.98 | 0.0322 | 6 |
| 5026 | Blue | 11.07 | 14.27 | 3.35 | 9.53 | 15.88 | 5.33 | 3.98 | 0.0536 | 10 |
| 5126 | Gray | 11.07 | 14.27 | 3.35 | 9.53 | 15.88 | 5.33 | 3.98 | 0.0536 | 10 |
| 5050 | Black | 13.28 | 17.91 | 1.68 | 11.81 | 19.69 | 3.56 | 4.9 | 0.0387 | 5 |
| 5150 | Black | 13.28 | 17.91 | 1.68 | 11.81 | 19.69 | 3.56 | 4.9 | 0.0387 | 5 |
| 5052 | Black | 15.24 | 19.2 | 2.01 | 13.72 | 20.83 | 3.68 | 5.41 | 0.0398 | 6 |
| 5002 | Black | 16.08 | 21.44 | 3.02 | 14.22 | 23.5 | 4.95 | 5.89 | 0.0808 | 9 |
| 5045 | Black | 25.4 | 31.75 | 3.02 | 23.37 | 33.91 | 4.95 | 9.02 | 0.0996 | 9 |